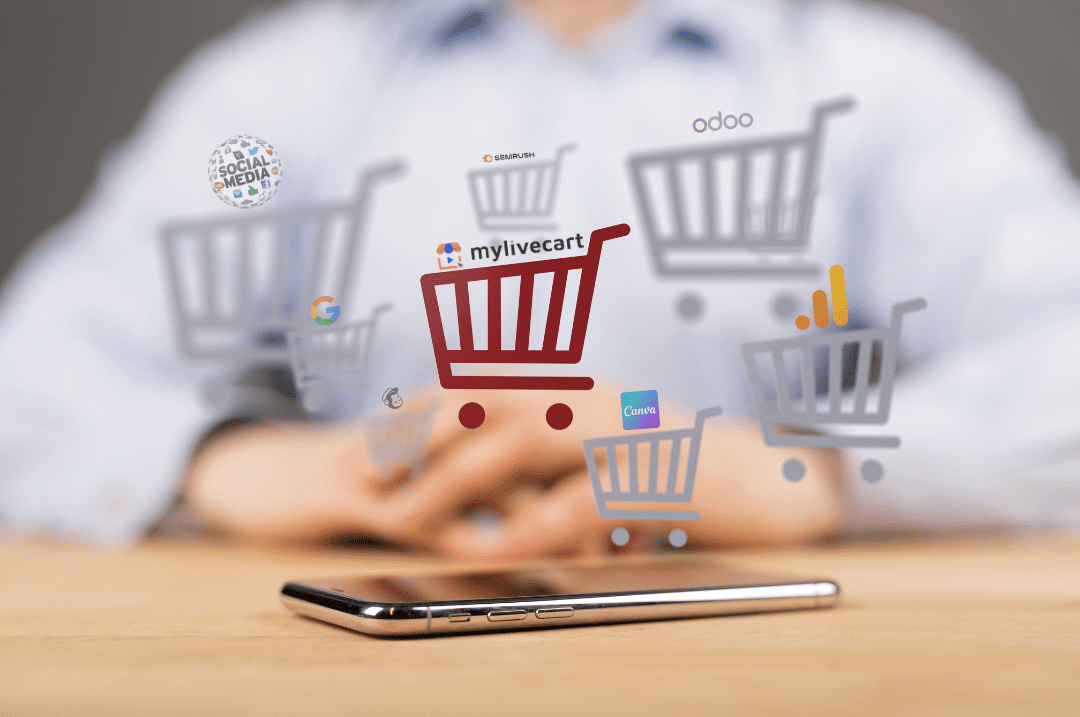 In this competitive world, attracting traffic and optimum sales is not a piece of cake. And even if we think of running a successful eCommerce business that drives expected results, it requires leveraging the right tools and technologies to boost online sales. So, in this blog, we'll explore some essential tools that can significantly boost your eCommerce sales and take your business to the next level.  
1. Email Marketing Platforms – MailChimp  
Email marketing remains one of the most effective ways to engage with your customers and drive sales. MailChimp is a user-friendly and powerful email marketing platform that allows you to create, automate, and analyze your email campaigns. It has features like customizable templates, predictive demographics, subject line helpers, retargeting ads, segmentation, automated workflows, etc. You can even send personalized and targeted emails to your subscribers that increase the chances of conversion and repeat business.  
2. Social Media Management Tools – Hootsuite & Buffer  
Social media platforms have been considered one of the best ways to market your products & services and boost sales. It has now become an indispensable part of any marketing strategy. Hootsuite and Buffer are popular social media management tools that help you schedule and manage your posts across various platforms like Facebook, Twitter, Instagram, and more. You can maintain a consistent presence, engage with your audience regularly, and ultimately drive more traffic to your eCommerce store just by planning content in advance. 
3. SEO Tools – SEMrush & MOZ  
Search Engine Optimization (SEO) is crucial for improving your website's visibility in search engine results. Nowadays, SEMrush and MOZ are two widely used SEO tools that provide keyword research, competitor analysis, and website performance tracking with deep insight gathering. By optimizing your online store's content, meta tags, and product descriptions using insights from these tools, you can improve your website's search engine rankings, leading to increased visibility and higher chances of attracting potential customers. 
4. Content Creation – Canva  
Eye-catching visuals play a vital role in attracting and retaining customers and that's where Canva comes in. Canva is a user-friendly graphic design tool used by both graphic designers and non-designers. Having an eCommerce store asks for different types of graphics for different purposes, and that's where Canva suits the best. Multiple users can collaborate to design engaging social media posts, product images, banners, and more that capture your brand's essence, helping you stand out from the competition and boost sales.  
5. Inventory Management Tool – Odoo 
Boosting your sales does not only include tools that assist in promoting or handling your social identity, but rather, managing your inventory properly also plays a vital role. A business with a huge product list and amount requires a strong platform to efficiently manage its inventory. Odoo fits as an excellent inventory management tool to streamline your inventory processes, track stock levels, and help you optimize your supply chain. Having such an inventory management platform reduces fulfillment errors, provides accurate product availability information to customers, and enhances their overall shopping experience. Apart from this, Odoo allows you to build a responsive website in just 20 minutes which is also considered an amazing feature of it. 
6. Analytics – Google Analytics & Optimizely 
To make informed decisions and fine-tune your eCommerce strategies, you need data-driven insights. Google Analytics is a powerful web analytics tool that offers valuable information about your website's traffic, user behavior, and sales performance. Combining it with Optimizely, an A/B testing platform, allows you to experiment with different website elements and optimize your conversion rates. Understanding your customers' preferences and behaviors will help you tailor your offerings and marketing campaigns for better results. 
7. Advertising Platforms – Social Media and Google  
We all know that paid advertising plays a vital role in boosting traffic, brand awareness, and sales with quick and short-term results. Social media platforms like Facebook, Instagram, and Twitter offer targeted advertising options that allow you to reach potential customers based on their interests and demographics. Google Ads, on the other hand, enable you to display your products to users actively searching for similar items. Investing in strategic advertising campaigns can lead to increased brand awareness and higher conversion rates.  
8. Live Streaming Platforms – MyLiveCart  
Live streaming has gained tremendous popularity in recent years and offers an interactive way to showcase your products and engage with your audience in real-time. MyLiveCart is a user-friendly, feature-rich, live shopping platform tailored to assist online store owners with providing a real-time shopping experience to their audience and gaining sales. All you need to do is integrate your website with this platform. This platform allows you to host product launches, demonstrations, Q&A sessions, and more, encouraging immediate engagement and creating a sense of trust with your audience, which can ultimately lead to more sales. 
Conclusion 
From email marketing to social media management, SEO, content creation, inventory management, analytics, and live shopping, each tool plays a vital role in driving traffic, enhancing the customer experience, and increasing conversions. By incorporating these tools into your eCommerce strategy, you'll be better equipped to attract new customers, retain existing ones, and ultimately achieve long-term success.